Never mind the heat, this was truly a special day [NZ Herald]
"Hayley Westenra

stopped the day. She stopped the birds in the trees, did Hayley. The sun stopped moving across the sky and listened in wonder. The timing in her performance of Amazing Grace was extraordinary."

NZ Herald
Paul Holmes: Never mind the heat, this was truly a special day
By Paul Holmes [report from NZ Herald]
5:30 AM Saturday Mar 19, 2011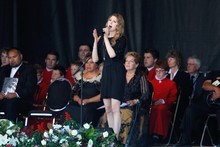 I'm writing this in the Koru Club at Christchurch Airport. The place is crawling with politicians. Maurice Williamson has just told me I look dishevelled. I guess I do. It's been a long day in the sun at Hagley Park, where I did the NewstalkZB commentary of the national memorial service for Christchurch.
The day started crisply, but by the time the service began it was ferociously hot. It didn't matter. This was one of those special days of a lifetime and it was a privilege to be there.
By the time it started people were there in their tens of thousands. You couldn't see a blade of grass.
The community of Christchurch, having demonstrated courage and resilience over the last few months, and particularly since 12.51pm four weeks ago when the city tore itself apart, had decided to come together. There must have been a need for the people of the city to sit together and to listen and reflect together.
What I'll always remember is that no one wanted to leave. The crowd didn't. They all stayed. Hayley did Pokarekare Ana. Dave Dobbyn came out and sang Welcome Home.
The crowds moved towards the stage. They swayed along with him. They loved it. Something very kind and impromptu was happening.
Prince William was very giving of himself. He spent oodles of time with the rescue workers, the service people and with the crowds.
His speech was one of the star moments of the day. He hit exactly the right spot with us all. Make this man king right now. Let's move on. William praised New Zealanders as having again displayed the qualities for which we're universally known, "courage and understated determination".
He quoted his grandmother, the Queen, as saying that grief is the price of love. It was pure class. It was also brief. The speeches, if one were being a bit picky, could all have been a bit briefer, particularly the religious ones.
There was plenty of religion, it has to be said. And what the bloke was saying at the start about the tree of life was beyond most of us.
Hayley Westenra stopped the day. She stopped the birds in the trees, did Hayley. The sun stopped moving across the sky and listened in wonder. The timing in her performance of Amazing Grace was extraordinary. You found yourself not breathing. Something very mature has happened to Hayley.
Bob Parker's speech was nice and brief. I didn't quite understand it but it was nice and brief. The various religions each made a contribution, Muslims, Jews, Hindu, Buddhist and Baha'i. They too were brief. It was the Christians who banged on a bit.
But who cared? What did it matter? The crowd needed its spirit nourished. They were amazingly disciplined. There were times when not a head moved. Especially when Hayley did Amazing Grace.
I've been in Christchurch three days this week. Poor Christchurch, dear old Christchurch. Everyone has a story. Everyone describes the terror of February 22. Everyone.
My Christchurch colleague Mike Yardley tells of walking out of NewstalkZB at the very moment the earthquake struck, only to look across the road to see the beautiful old Christchurch Club collapsing.
He saw a woman sticking out of it so he rushed across the street to pull her out. She was covered in blood. He took her straight around to Latimer Square. That's where you go when there's an earthquake in Christchurch and you're bleeding.
My friend Hamish Clark at TV3 was out reporting in the street when the spire fell off the cathedral nearby. He didn't find his parents for two days.
He says there are some things he apparently did that day he has no memory of. Hamish and Lisa will stay in Christchurch. Hamish says that probably most people have given thought to leaving, but his and Lisa's families are there, so that's that.
The other thing about that crowd yesterday afternoon? It was friendly and full of love.
Over the course of the few days I was in Christchurch, several people thanked me for coming.
I think Christchurch finally realises we care. That we aren't all assholes in Auckland. They've been amazed at the funds we've raised, the attention we've given their plight, the efforts we have made. I felt our being there was appreciated.
What was also fine about the National Memorial Service was the numerous expressions of compassion for Japan and the frightful challenges she is facing.
In that sense, it as not a selfish, self-regarding affair. Japan was one of the first matters Bob Parker spoke of.
The only curious lapse was the virtual ignoring of Julia Gillard, the Prime Minister of Australia. She made the trip across the Tasman, along with Tony Abbott and Australian Governor-General Quentin Bryce.
Why in heaven's name - and there was plenty of heaven's name at Hagley Park - did Julia Gillard not speak? You would have to hope she was at least asked to.
As Dave Dobbyn told them at the end, "Good on ya, Christchurch."
It was a marvellous service. There were many moments that had you wiping tears. Tears for the loss. Tears for the courage. Tears for the future.
By Paul Holmes
NZ Herald
---
Hayley sings Amazing Grace: NZ National Christchurch Memorial Service 2011
Search all of HWI and the archives
Both the old (archived) website and the current website are searched.
If there are too many results, try enclosing the search phrase with "quotation marks".
If there are not enough results, try removing any quotation marks.
To exclude pages containing unwanted words, prefix those words by a - (minus) sign and no gap.
https://cse.google.com/cse?cx=017298340214157624792:o9prbk6rdbg